P938 Compact Holster with UltiClip
Now in color! These are cost effective high quality Kydex holsters for your Sig Sauer® P938. Available in Neon Pink, EMT Red, FDE Tan, Coyote Brown, Tiffany Blue, and Purple. They come with UltiClip ambidextrous clip mounting. We are proud to offer these for our customers looking for a full holster that allows for fast access and easy re-holster of the pistol and won't wear your finish like leather or absorb odors after being sweat on.
It is purposely recessed on the top of the holster to accommodate our Optic Mount Service.
Comes equipped with adjustable tension so you can dial in the holster to your liking.
Now available, upgrade to UltiClip XL for an additional $5.00. Comes standard with the Ulticlip 3 which accommodates a 1/4" max thickness for use as a Holster Clip. The Ulticlip XL accommodates a 1.5" max belt width for use as a Belt Clip and a 3/8" max thickness for use as a Holster Clip.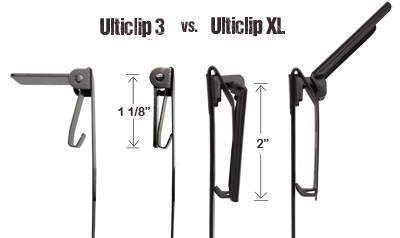 Fits Sig Sauer® P938 Pistols.
**Will NOT fit the Sig Sauer® P238**
Check out our new Tier One Carry Service for the Sig Sauer P226, P228, P229, P238, P938, and P320 that allows you to add a micro optic for the ultimate carrier piece. Click here to read more.
Compact Holster with Ulticlip Set Up and Adjustments Video
Adjusting your Galloway Precision Compact Holster with Ulticlip for right or left handed shooters and inside or outside the waist band set up.
UPC:
Brand:
SKU:
Notice of liability and warranty
Here at Galloway Precision we strive to provide quality US made products for savvy responsible firearms owners. Anytime you work on or clean your firearms you are the sole responsible party for safe handling of the firearm, read the owners manual and respect every firearm.
*We strive to design all parts we manufacture to be drop in, although there is the rare occasion where a part will HAVE to be fitted to the tolerances of your particular pistol. We cannot control the tolerances of mass produced firearms, therefore we highly suggest that if you run into a tolerance issue to contact us at tech@gallowayprecision.com before taking it to a qualified armorer to fit the part. We also offer installation of all triggers, trigger kits, and parts that we make for a nominal fee.
*Altering any product, firearms, cars, even clothes comes with risks so understand and accept we assume no liability for injury to the buyer or anyone residing with or operating with the buyer. The buyer is the sole responsible party for the use of their firearm with or without our parts.
*100% money back (less shipping) on all our products is offered by us against failure of our components or just displeasure our products did not meet your expectations or end needs. Buy and don't like it we will refund your purchase price minus shipping upon return, within 30 days of purchase of the complete unmodified parts in question, with the exception of Closeout / Discontinued products which All Sales are Final. A 20% restocking fee will be applied to returned Trigger Kits and Magazine Extensions that have been installed. Refunds are issued upon return within 2 business days back to the original credit card used to purchase the product.
*We reserve the right to cancel and refund an order for any reason, including but not limited to inventory supply, lead time, hostile customer attitude, shipping address, etc.